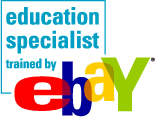 Have a professional teach you the right way to sell on eBay.

Training delivered by Education Specialists uses the most up-to-date training and student materials – the same ones used by eBay University. So you know you're learning to make the most of eBay to increase your revenue.

We at BT9 I have been selling on eBay since 2001. Collectively we have accumulated over 3,000 positive feedback comments, We have learned firsthand what works.

Now trained by eBay as an Education Specialists we can bring the best practices of eBay selling to you. Whether you're
looking to supplement your regular income, start a fun and profitable new hobby, or sell on eBay full-time, We can help you meet your goals with success. We currently offer two classes: Basics of Selling on eBay and eBay for the Small Business. We also offer private consultation and training at your home or workplace. These private sessions are great for those who need some extra help with the computer, people who want to sell on eBay full-time, and businesses that need to train employees to sell on eBay.

Trading on eBay is easy and fun and you'll never know what you might find!

What started as a place to trade collectables and hard-to-find items has developed into a marketplace where you can find practically anything. From everyday items such as mobile phones, DVDs or DIY to clothing, collectables and even cars.

Did you know a mobile phone sells every minute or a car sells every 4 minutes on eBay.co.uk?

At any given time, there are approximately 100 million listings worldwide, and approximately 6.6 million listings are added per day. eBay users trade in more than 50,000 categories.

Whether you're clearing out your closet or garage, setting up your own business or looking for an additional sales channel, millions of people just like you are making money selling on eBay.

Harness the power of eBay to put more money in your pocket by signing up to one of our exciting courses now!